samsom
Day 10 - Why aren't these two married in real life?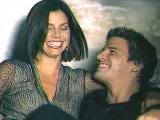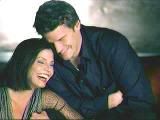 It's not
just
because I thought they were visually stunning together, or that I thought they were naturally flirtatious with each other the way two very attractive people often are. It's mostly because I always got the sense that they genuinely
liked
each other, and were good friends, along with Glen Quinn. The above caps are from a photoshoot promoting the beginning of s3. Most are suggestive of C/A becoming front and center that season but the ones above always struck me as CC and DB having fun together. I like to think that happened a lot.
It's just too bad both were mostly attached to other people during AtS. *sigh*
Runner up would be Sandra Bullock and Keanu Reeves.
Just a small dream I've had since I watched them dance together in
The Lake House
. Also, Keanu seems very sad most of the time and Sandra laughs a lot. She'd make his world a little brighter.
Wow. My shipping tendencies really do run to one direction, don't they?